What if I just change the name of the company but still the back end is the same? Well EIG ( Endurance International Group) acquires web hosting companies that sometimes help the startups to grow.
But EIG is like a leech that will slowly suck off the juices and then throw away the rest of the shell. So, it's better to learn more about nonEIG hosting companies.
Hello, friends welcome to , in this article, you will get to know about the best non-EIG Hosting Companies. You will be seeing 5 famous Non EIG Hosting providers which are growing independent and don't need crutches.
This is going to be a short article that will help you make your choice from the best Non EIG Hosting Companies.
How Many EIG Groups of Companies Are There?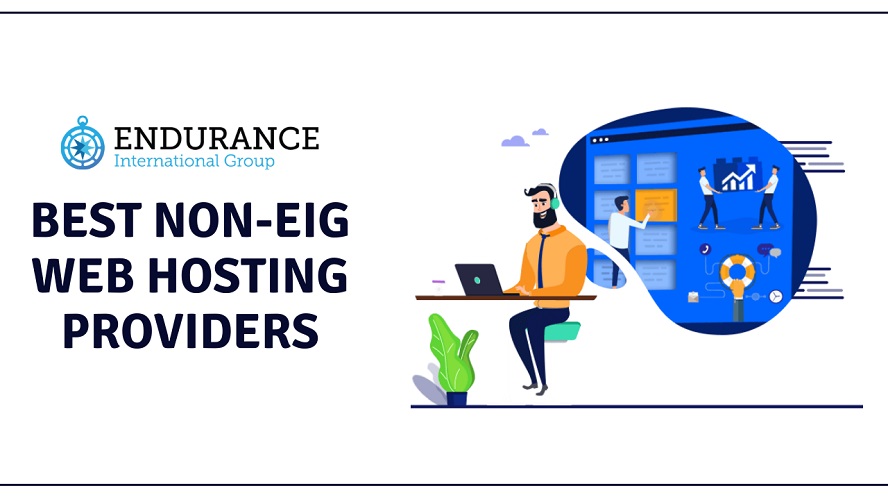 Well, there are many Hosting companies that have been acquired by EIG but the interesting part is Endurance International Group shares are going down but still EIG group is growing like an overflowing volcano and it even acquired some of the biggest hosting giants such as, HostGator and iPage.
Currently, EIG acquired 81 famous hosting companies and 1 email marketing company, isn't this great? Perhaps yes but we are here for the best nonEIG hosting companies in India although all of the web hosting providers are global leaders.
| | | | |
| --- | --- | --- | --- |
| 2slick.co | Dotster | IMOutdoors | SEO Hosting |
| AccountSupport | easyCGI | Intuit Websites | SEO Web Hosting |
| Arvixe LLC | eHost | iPage | Site5 |
| A Small Orange | EmailBrain | IPOWER | Southeast Web |
| ApolloHosting | EntryHost | IX Web Hosting | SpeedHost |
| AppMachine | Escalate Internet | JustHost | Spertly |
| Berry Information Systems L.L.C. | FastDomain | LogicBoxes | StartLogic |
| BigRock | FatCow | MojoMarketplace | SuperGreen Hosting |
| BizLand | FreeYellow | MyDomain | Typepad |
| BlueBoxInternet | Glob@t | MyResellerHome | Unified Layer |
| BlueDomino | Homestead | MySocialSuite | USANetHosting |
| Bluehost | HostCentric | NetFirms | vDeck |
| BuyDomains | HostClear | Networks Web Hosting | Verio |
| CirtexHosting | HostGator | Nexx | VirtualAvenue |
| Constant Contact | HostNine | PowWeb | VPSLink |
| Directi | HostMonster | PureHost | Webzai Ltd. |
| Dollar2Host | HostV VPS | ReadyHosting.com | WebHost4Life |
| Domain.com | hostwithmenow.com | ResellerClub | webhosting.info |
| DomainHost | HostYourSite.com | Saba-Pro | Webstrike Solutions |
| Dot5Hosting | HyperMart | SEO Gears | Xeran |
| – | – | – | YourWebHosting |
 5 Best Non EIG Hosting Companies
Now let us know about the 5 best non EIG hosting companies which are offered the best hosting service and working independently for so long some of them have been here since 1998. So, let's get into the detailed part.
A2Hosting
A2 Hosting has been the global leading web hosting provider since 2011 and offers turbo fast web hosting service which will cost you  Hold up prices are mentioned below! So, A2 hosting is famous for its industry-leading hardware which hosts your site and makes it run like a rocket.
Features
AMD EPYC Servers
Fast NVMe SSD Drives
Litespeed Web Servers
Guaranteed server uptime
One of the best ticket support
Plans and Pricing
A2 Hosting offers you 4 turbo fast hosting plans but you won't get turbo fast servers in all the 4 hosting plans you only get 2 Turbo fast web hosting plans.
YouStable
One of the most affordable web hosting provider which is in the market since 2015 and has made a remarkable name in this industry and they became so famous because of their high-class customer support service and when it comes to web hosting service then let me tell you one thing,
YouStable uses same specs as A2 Hosting and after that YouStable somehow managed to offer  . So read the features then tumble into the plans of unlimited web hosting.
Features
AMD EPYC Processors
Litespeed Web Servers
NVMe Boosted Drives
24*7 support service
Guaranteed server Uptime
BitNinja Protection
Free SSL, Free Domain, Free CDN
Plans and Pricing
YouStabe offers 3 affordable web hosting plans that consist of sumptuous features that every blog master admires. The lowest starting web hosting plan of YouStable will cost you a minimal amount of $1.2.
InterServer
Did you know Interserve has been in the market since 1998 and it has one of the most robust features that will help you run your website smoothly and give you the most immense hosting experience?
Interserver also offers SSD drives which is a green flag for everyone who loves or insists on getting a fast website.
Features
Fast SSD Servers
Round The Clock Support
Cheap Monthly Hosting packages
Free DDoS & Malware Protection
30 Days Money Back Guarantee
Plans and Pricing
Interserver will cost you a minimal amount of $2.5 and this is the only web hosting plan, and you can install a CMS of your choice with just one click and even if you don't have coding knowledge still you can build your online presence with the help of the free website builders.
SiteGround
Are you someone who needs a seamless site-building experience with the most optimized web hosting service which is another Non Eig hosting provider and they provide the best solution for personal and business websites? SiteGround is quite a reliable web hosting provider!!!
Features
Enhanced Security Modules
Advanced Caching technology
Free CDN, Free Email Account
Special modules for Ecommerce Stores
Daily backup
Plans and Pricing
SiteGround has 3 web hosting plans and they are named StartUp, GrowBig and GoGeek they will cost you a minimal amount of $3.99, $6.69 and $10.69 respectively.
Fastcomet
The name defines it all, FastComet indeed stands among the fastest web hosting providers, they have a huge customer base of over 75000 they are also new to the market just like YouStable and they also strive to offer the best hosting service to its customers.
Let us plunge into to features of FastComet hosting
Features
Free Daily & Weekly Backups
Powered By Cloudflare CDN
Free Domain Transfer
24*7 super-priority support
Free managed Migrations
100% guaranteed money back policy
Plans and Pricing
For every web hosting problem, Fastcomet got a solution, their web hosting plans start from a very inexpensive price of $2.95.
Conclusion
This article was about Best non Eig hosting companies in India and I mentioned the 5 best Non Eig hosting providers.
All the hosting providers are fast, secure and quite reliable. You can get started with them and start building your online presence.
By the way, if you have any doubts or queries then feel free to ask in the comment section below I will reply to you all.
Thank you, for now, catch you later with the next interesting article
Happy Hosting.