Undoubtedly, virtual events have become the new thing and exploded in popularity, especially over the last couple of years.
Now, if you are planning to host a fun virtual event, then there are a few strategies that you need to know about to make your virtual event super successful.
Make your way to the end of this insightful post to know more.
Best Strategies To Increase Virtual Audience Participation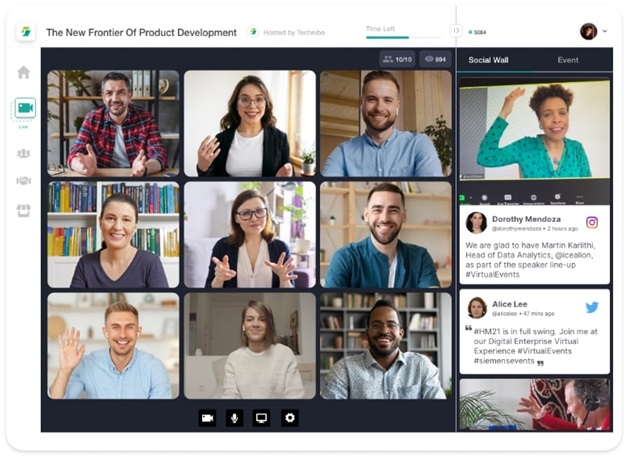 1. Include Gamification
No matter what the overall vibe of your event is, make sure that you include games in between. Gamification works as an amazing breather in between events to keep the audience engaged for a longer period of time. Moreover, virtual events need to be much more engaging keep the distance between you and your audience in mind.
You can include a few rounds of virtual bingo, virtual scavenger hunts, or include multiplayer games for more impact. A few options are Call of duty, Mortal Kombat, etc. This helps in breaking the ice between attendees by increasing their interaction.
2. Hire Entertainment
One of the best ways to keep your audience engaged till the end of the virtual event is to outsource entertainment. You can hire entertainers depending on the scale of your event. If you are hosting the event on a regular scale, then you can invite illustrators or stand-up comedians.
However, if you are conducting the event on a large scale, then depending on your budget, you can hire magicians or even host a brief virtual DJ session. Entertainment is a great way to garner more attention from your audience and they will be compelled to stay for a much longer duration for the event.
3. Incorporate A Social Media Wall
Another great way to ensure participation in your event is by creating a free social wall. If you are new to the concept of a social media wall then this is a strategy not to be missed!
A social media wall is a collection of social media feeds from various platforms in a customized format.
Social media holds tremendous potential to keep audiences hooked as your attendees themselves are active social media users who like spending time on the platform daily. There is a chance that they might post pictures, selfies, etc., on their social media handles. Further, collecting and embedding the content is a great way to surprise your audience and the others will also be motivated to post content to be featured!
4. Send Virtual Event Bags
You can send across a virtual event bag to your potential audience before the event. You can set a budget for the goodies and include options like keychains, caps, bags, etc.
Keep the event bag as a surprise and send it to your attendees. This way even if your attendees were planning to give the event a miss, they would be interested in attending it and actively participate during the virtual event.
5. Run A Hashtag Campaign
Hosting hashtag campaigns to promote your virtual event on social media is a great way to give a glimpse to your audience about the event and also engage them. Make sure that the hashtag selected by you is easy to understand and catchy enough.
You can then aggregate the content created by them and post it in the form of a Hashtag wall. Just like a social media wall, a Hashtag wall comprises the content created by social media users using that particular hashtag.
6. Enable Live Polling
It is crucial for event marketers to keep track of how the audience is reacting to the event. This can be possible when you enable live polling between your event. You can keep the names of the audiences anonymous.
You can make updates on various aspects of the event like the speed of the speaker, if they are facing any technical glitch, etc. This would encourage your audience to pay more attention and participate more actively.
7. Host Fun Quizzes
Lastly, everyone loves a round of fun quizzes as it pushes them to compete and get more engaged with the event. Be it a round of Hollywood trivia or a general knowledge quiz, quizzes are highly engaging and work extremely well for increasing participation.
However, make sure that you offer a fun prize to your audience to generate more excitement within them.
Final Thoughts
This brings us to the end of this post and you are now aware of the best ideas to significantly increase the engagement of your audience during the event.
Now, that you are aware of it all, include these strategies in your upcoming event and we are certain that you will be amazed at the results!